Scheduled Azure Container App Job Example
Azure Container App Jobs are designed to execute for a short period of time as part of your containerised workload in an Azure Container App Environment. They exist as separate entities from your Azure Container App but live in the same Azure Container App Environment to share resources. They can be triggered Manually, on a Scheduled basis, or be Event Driven. At the time of writing Azure Container App Jobs are in preview and are scaffolded using the Azure CLI.
In this blog post, we will look at a Scheduled Container Apps Job to run in the form of a simple .NET 7 Console App that gets data about rainfall stations from across the UK. There will be no tie-in to a neighbouring Container App, this will focus solely on the Container App Job:
Then we can publish the application to Azure Container Apps into an Azure Container Registry. I elected to build and publish with the use of the .NET SDK in Visual Studio 2022 which does not require Docker/Docker Desktop at all!!.
To make this sure this works at publish time, install the Microsoft.NET.Build.Containers Nuget Package:

Next, Right-click the .NET7 project, Publish, Azure, Azure Container Registry. Then create a new instance of Azure Container Registry or select an existing one on your account: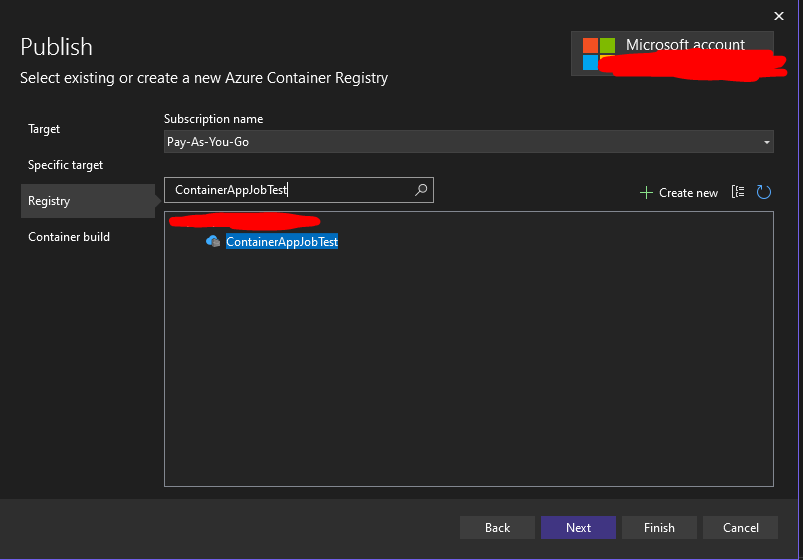 Then click Next to select how to build and deploy the container image. In this blog post we will use .NET SDK: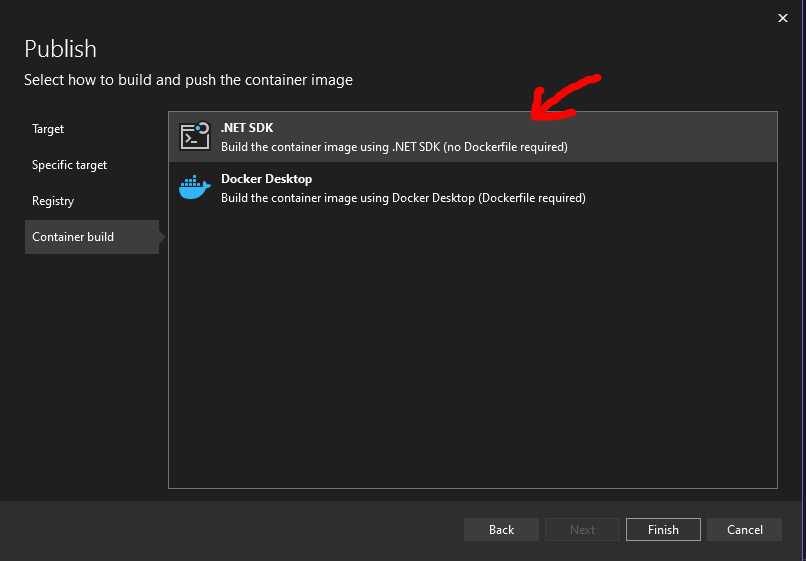 Click Finish, then Publish.
Check the deployment of your image into your Azure Container Registry from under the Repositories section in your Container Registry instance: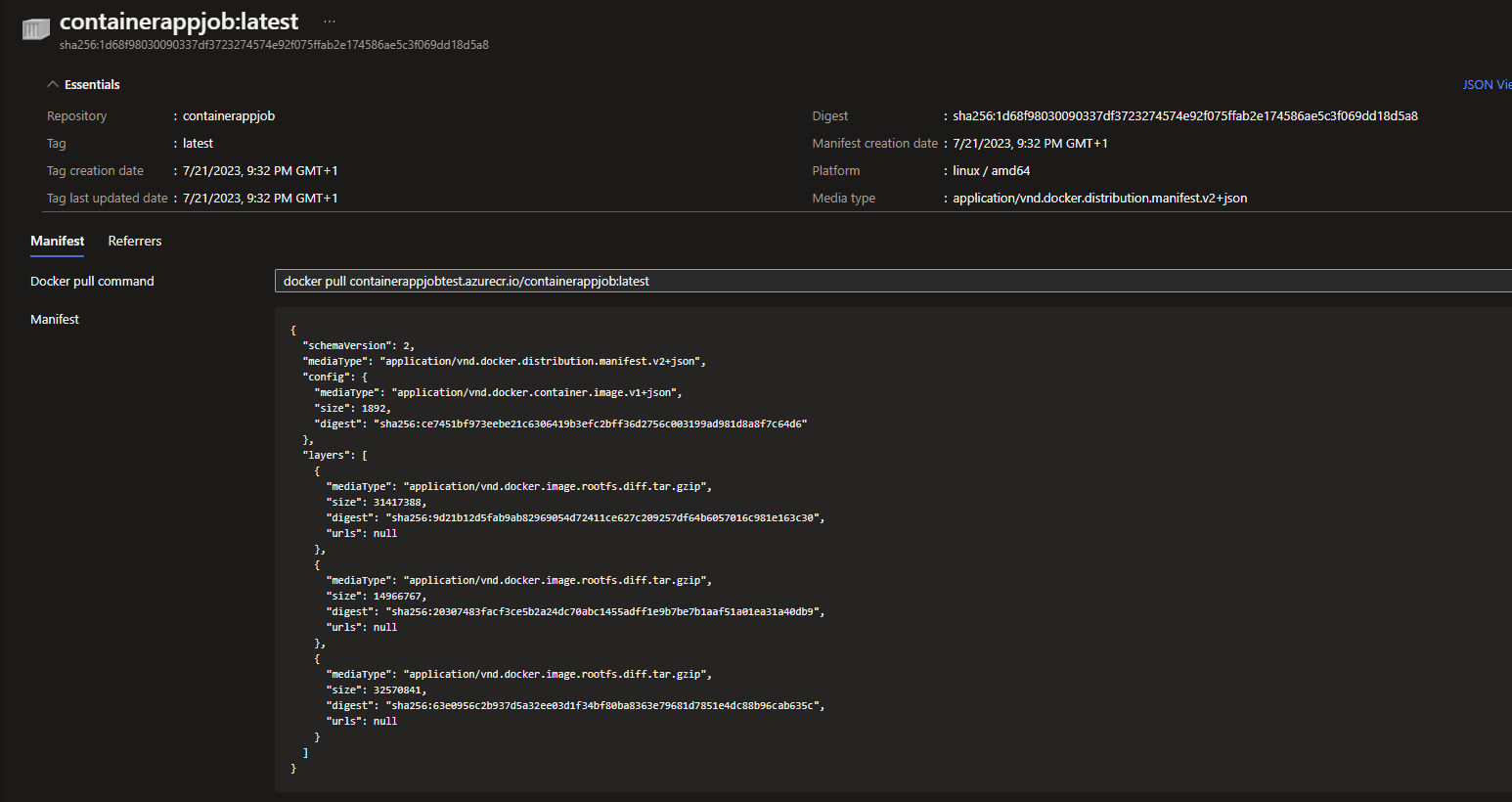 Next, run the following commands (ideally from Powershell) in this order where you login first, upgrade your CLI version and add the Azure CLI dependencies that are necessary:
In the Powershell command window, define some variables that will be used for later. The location will ideally be the same location as our registry:
Next, we create a Container Apps Environment to securely separate the standard container app and the separate container app jobs that will need to share the same network. For simplicity, we will create this Container Apps Environment in the same Resource Group as our Container Registry:
az containerapp env create --name "$ENVIRONMENT" --resource-group "$RESOURCE_GROUP" --location "$LOCATION"
When creating the Container Apps Environment you will notice the creation of a Log Analytics Workspace (since we didn't define one in the previous command):

After the Environment creation completes, we will create the Container Apps Scheduled Job with the following command, making sure that we replace the image reference with our own image reference from Azure Container Registry and also the registry server name. We may also want to customise the cron expression to suit our needs for how frequently the job executes:
Results
From the portal and navigating into the Container App Environment instance, click on the "1" Next to Container App, then select your Container App Job.
You will then see the following screen where you can now view the continuously printing logs from your code accessed from your container and logging results through the Logs in your Container App Job: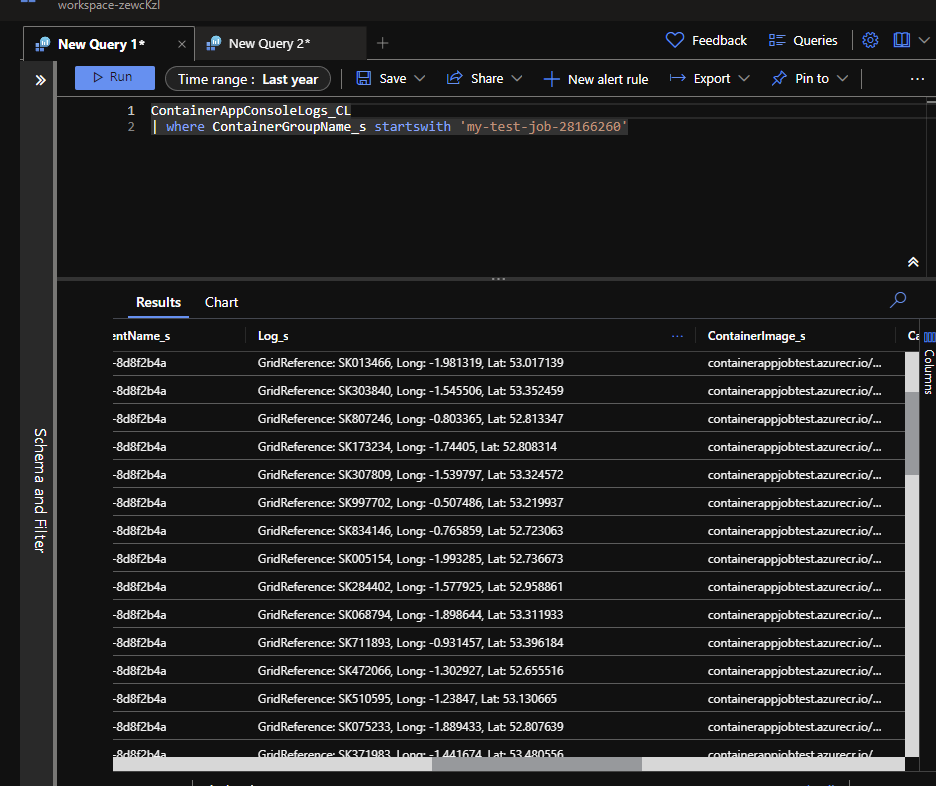 Conclusions
At the time of writing, this is preview software according to Microsoft so some processes and methods will likely change fairly soon. Additionally, when I was working through this and experimenting, I kept on having the sense that the role of Container Apps Jobs appears very similar to Timer Triggered Azure Functions in the case of Scheduled Container Apps Jobs, or simply the same as HTTP triggered Azure Functions in the case of Manual Container Apps Jobs.
In a production-level implementation, the App Jobs would work best in conjunction with a Container App handling a larger workload, with the App Jobs handling tasks such as traces, logging, and error reporting.